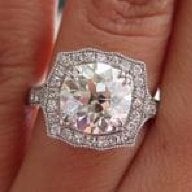 Joined

Jan 2, 2008
Messages

1,706
Hi PSers!

I'm currently in the beginning stages of planning a trip for myself and BF to the USVI for next February (well really, it's ME planning and BF going along with whatever I say

). I've never been there and I know many of you HAVE, so I'm just looking for any pointers or suggestions or helpful hints you may have!
One of my BFF's is getting married in St. Thomas in mid-February. The wedding and its festivities will probably last 2-3 days, and we've decided to make our trip a total of 8-9 days which would give us a good 5-6 days of our own time outside of wedding stuff to be together and explore. First question is, is that enough time? Too much? We live in CA and this is the first trip to Caribbean for both of us, and we likely won't be back anytime soon. Definitely don't want to leave with regrets wishing we had done more, but also don't want to be bored and twiddling our thumbs. I'm a little worried because I've never done the whole leisurely tropical vacation thing; I adore travelling and have been to countless places, but my trips are generally more in the cultural/museums/monuments/historical exploration mold than sit-on-the-beach-for-a-week-drinking-pina-coladas.
I've also decided that I also definitely want to be able to visit St. John (don't think we have the time or means to also go to St. Croix, but if someone makes a good argument then maybe we can work that in). Along those lines, I'm wondering if we should take a few nights and actually STAY in St. John, or can we get by with just doing a few day-trips there? Logistically I think it would be easier to just stay in St. Thomas the whole time so that we don't have to move hotels and such, but I'm also not sure how easily accessible St. John is (seems from what I've read that it's quite easy, but I'm not sure?).
We definitely want to go diving/snorkeling, hiking, possibly biking, paragliding, and all that fun stuff. Any recommendations for specific places to visit or must-do's?
And finally, will we need a rental car? It seems to me that we certainly won't need one the entire time, but it might be useful for part of the time. I'm not sure how easy/hard it is to get around without one, so insights on that would be appreciated.
Thanks so much!!