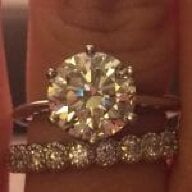 Joined

Mar 28, 2014
Messages

210
http://www.bbc.com/news/world-europe-34795005
"Joseph Lau confirmed he bought the ring-mounted, cushion-shaped stone for his seven-year-old daughter, renaming it "Blue Moon of Josephine" after her.
Auction house Sotheby's said the sale had set "a new world auction record for any diamond of any colour".
It is not the first time Lau, a property billionaire, has bought precious stones for his daughter.
The businessman - who was convicted of bribery and money laundering in 2014 - is also confirmed as the buyer of a 16.08-carat pink diamond, which Christie's sold for $28.5m on Tuesday.
It has been renamed "Sweet Josephine", a spokeswoman for Mr Lau told BBC News.
In 2009, he bought another blue diamond for his daughter - the 7.03-carat "Star of Josephine" - paying what was then a record $9.5m.
He was sentenced to five years in jail after his corruption convictions in a Macau court, but has avoided prison by not visiting the territory. There is no extradition treaty between Macau and Hong Kong."
Must be nice to be his daughter!

Except for the whole corruption conviction thing...