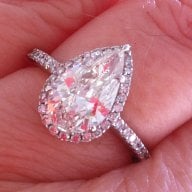 Joined

May 23, 2010
Messages

6,731
So, did you know you don't have to pay for TV, at all? Not a single penny*. You can get all the broadcast channels (NBD, ABC, CBS, PBS), and some other misc channels using an HDTV antenna.
We have this one:
http://www.costco.com/Winegard-Flatwave-Non-Amplified-HDTV-Indoor-Antenna-FL5050C-.product.100047906.html
You can figure out what's the best direction to point it using this website:
$30 HDTV antenna:
http://antennaweb.org/
And everything comes in loud and clear. It's also handy for areas where you might want TV, but don't want to pay for another cable box, like a home gym, or guest room, or garage. After all that hoopla about people not being able to pick up broadcast on their TV's (remember the change over?) I thought antenna TV was dead. It's not.
We like to use our antenna to get some stations that are NOT available on satellite or cable, like MeTV. I love MeTV because they have Andy Griffith, Odd Couple, Rockford Files, and all the other '70's shows that you don't see anywhere.

It's a national station, which means you might have it in your area.
MeTV shows:
http://www.metv.com/shows/
DH and I have noticed that between the antenna and Netflix, we might not need cable/satellite at all.
I'm hesitant to give it up, but I am leaning towards that. It would save us $100+ a month, and apparently we can actually get HBO separate from all other channels. If we decide to cut the cord, I'll let you know.
*Well, you do have to pay $30 (just once!) to purchase the antenna.

Have you been reducing your cable bill?