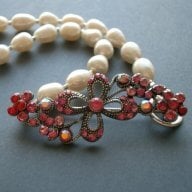 Joined

Oct 12, 2008
Messages

1,179
i hope everyone is having a good weekend. anyway, last week i noticed some black spots on my platinum e-ring, so i brought it into my jeweler to have it cleaned in the ultrasonic. i inspected it again yesterday and the same black spots were there.

i don''t wear my e-ring much because i would knock it around too much at work, so i''m sad that it''s dirty and not even the ultrasonic can clean it. do any of you have ideas on how i can clean off the black spots? my FI wants to use a needle to try to loosen them. is that a far fetched idea?

is it possible that the black spots could have come from a bad soldering job? i notice the black spots tend to be where the prongs meet the basket setting.