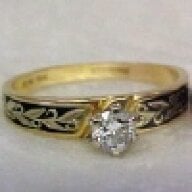 Joined

May 9, 2006
Messages

1,794
Success!
Thanks to the lovely ladies of PS, without whom this mission could not have been possible, as they tirelessly and sneakily sleuthed their way through the perils of ebay and other sites for my sake, slipping me listings in top-secret drop spots and coded in ciphers, and finally I have a ring!
Their Mission Impossible was to find the following:
1.
Yellow
gold shank
2. No colored stones
3. If ring has diamonds, they are set in
white
metal
4. Neither e-ring nor w-band but suggestive of both
5. Stackable with future e-ring and w-band
6. Size 8.5-9 or resizable
7. Within budget of $350ish!
Optional preferences:
Antique/vintage/filigree/deco styling
You see the daunting task with which they were faced?

But they persevered in their covert mission, tracking down sparklies in secret like keen-eyed ninjas of bling.

Now that it's safe to post the listing, here is the little beauty that will soon be on it's long journey to my avaricious fingers: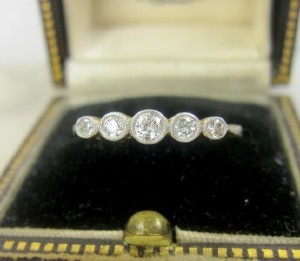 http://cgi.ebay.ca/ws/eBayISAPI.dll?ViewItem&item=330623209156&ssPageName=ADME:L:OC:CA:1123
I am beyond thrilled, and so so thankful!