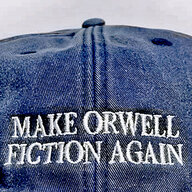 Joined

Apr 30, 2005
Messages

32,294
Today we're expected to remember zillons of user names and passwords.
It wouldn't be that hard if everyone let you use the same ones, and keep them forever, but they don't.

Some require more or fewer digits than others.
Some require some numbers.
Some don't allow numbers.
Some allow upper and lower case, some don't.
Some require a change every X days so just when you think you have it nailed, you have to remember some thing new.
I give up.
I want to write them all down on my arm.