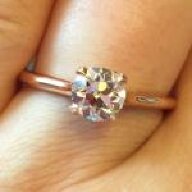 Joined

Dec 18, 2008
Messages

348
So I guess I''m just looking for someone to tell me i''m nuts or something here! My bf and I have been dating for a year...its been pretty serious from the get-go. We''ve always discussed "When we get married", not "if we get married"...he asked me some time ago what type of e-ring I would like...my family loves him and everyone is ALWAYS asking when we''re getting married
Anyhow to the point here...I''ve always been a "timeline" kind of girl. I asked him via text (so wrong I know) if he has a timeline for us...he said no! This obviously bothered me. So we talked about it again this weekend, bc I guess I need some sort of clarification or whatever...HE HAS NO TIMELINE! No clarification needed I suppose hah. He doesn''t even have a timeline for himself....he''s 30 i''m 25. I''d figure since he''s "older" he''d be more ready to get married and have a family. I have told him I don''t want to be 30 and just starting a family (no offense to anyone who is..it''s just not what I forsee for myself). He''s told me he knows he wants to be with me and marry me etc...so why can''t you nail down a time you''d like to be married, have kids etc?...It just doesn''t make sense to me AT ALL!
He said that money is partly a reason right now...which is understandable. BUT if it was something he were serious about he wouldn''t go out and spend $350 on a new coat he DOESN''T need

which just adds to his ever mounting credit card debt!!!! It''s his money he can do what he wants...but the fact that he isn''t even saving or trying to curb his spending doesn''t really make me think he''s serious about us ever getting married, and definitely not about a proposal within the next year or two even. Just a side note...we work together so I know how much he makes etc... I guess I just feel like if it were something he was serious about and wanted he''d find a way!....So why even bring it up if you''re not serious? BTW he''s the one who brought up marriage and engagements first.
Someone please tell me I''m overreacting and should just enjoy being young and in love and STOP freaking about a timeline!....