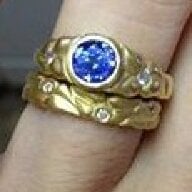 Joined

Jan 23, 2008
Messages

3,540
We've had some movement on the LIW list (congratulations to those all newly engaged!) and I figured since it's JULY already we should do another update post
I hope everyone's summer has been going well and I hope that no one is suffering to much from LIW feelings
Things have been crazy busy this past week for us (which is unusual that we've gone out and it not being a family related event) and it's been great. My gf from Cali was in MI visiting family and we drove from the GTA to Windsor to meet her for lunch (it was ~4 hr drive for us both to meet up) and we haven't seen each other in 3 years and she's engaged (ring is beautiful! Custom made platinum princess FLY halo .97 carats with pave on the sides) I don't have a photo but she wouldn't want me to post it anyways bc she is very particular about those sorts of things
So my bf took the day off work to drive there and meet her and I got to wear my ring (bc I won't be able to attend her wedding due to immigration stuff and I wasn't sure when she'd get to see mine) so we had fun looking at eachothers ring and catching up.
My dad flew up the next day and spent the weekend with us. We hit up Niagara falls and did a wine tour (and joined a wine club, SO excited about that) and then hit ribfest on Sunday with his folks. That was their first meeting and it went well

Monday we brought dad to the airport and dropped him off. I got in the front seat and my SO jumped out of the car, running towards the airport where my dad was. When he got back to the car I gave him the
look and asked him what that was all about. He got this
look on his face and said "well I didn't have a chance to be alone with your dad bc you were always around"

He asked permission! The engagement will be VERY short (like probably 8 weeks or less) and we have a camping trip at the end of the month and so I'm not sure when he's going to do it (before or right after) but I'm very excited! I've had 2 dresses for a while (short and a long one, both vintage) and so we are ready to go when it's on my finger.
So how about you ladies? Any updates? If not how has your summer gone and have you done anything fun?
DUST to everyone