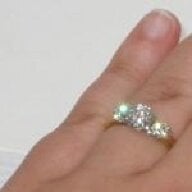 Joined

Dec 12, 2008
Messages

1,557
Alright ladies, I could use some advice or a harsh talking to...

Here''s the background:

My BF and I have been together for over 3 years. My BF told me about a year ago that the only reason he was waiting to propose was because he wanted to be able to get me a beautiful ring and couldn''t do so on a student budget. Well we graduated in June ''08 and have been working since October. So around December I started looking at erings and found PS. I told BF that I wanted to help design my ering and though he was a little surprised, he said he was relieved. So we started looking at erings and planning a wedding for fall 2009.

Well I couldn''t commit to a diamond because I kept feeling guilty about taking money away from our house fund and the BF had serious sticker shock for everything wedding-related (we''re paying for our own wedding). So, we had a heart-to-heart and decided to hold off the wedding until we got our house and figured out our budget and how much we could save. So, we came up with an 18-month plan for the house and we''re both really excited about becoming home-owners. We''ve been going to open houses to educate ourselves about the market and are having a blast.

So here''s where the issue is...

When we were coming up with the budget, my BF said "oh, well we have to leave room for me to make a certain large purchase...." I can''t tell you how great that felt but I said "No, we should push that off as well so that we can get as much of a down payment as possible before our lease is up. I love you though for wanting to do that" Those may not be the exact words but something like it.

Now, I''m kicking myself for saying that!!! I just REALLY want to be engaged. I guess I didn''t realize how much so when I told him we should push it back. Well, now I feel kind of dumb because I can''t say "oh by the way, let''s put that large purchase back in the budget"...Then I''d feel like I was telling him to propose. I just don''t know why I didn''t smile coyly and say "yes, we should budget for that!"

Anyway...let me have it...did I just doom myself to 18 months without an engagement? Is there any way I can go back on that without seeming pushy?