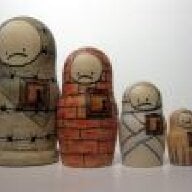 Joined

Feb 18, 2011
Messages

691
centralsquare|1312587446|2985107 said:

Autumnovember|1312585264|2985081 said:

lbbaber|1312582841|2985057 said:

I saw a show once that featured women that can't have children (for whatever reason) and they obsessively collect and "play with" these kind of dolls. It featured some sick women walking around with strollers and people would stop and say "what a beautiful baby" and the women would smile and say "thank you". It was sad and disturbing.

They are definitely beautiful but in a scary, oh so realistic kind of way.

I can totally see people buying them for that reason and it IS really sad but I'm not sure what else they could be bought for besides maybe halloween or as a prop or something.

Interesting point. I realize what it scary to me is not only how lifelike they are, but why people would want lifelike dolls like that. The shock at the doll itself stems a bit from what they are used for.
These dolls (Reborn) have a cult-like following. The show I saw was about the dolls. Sadly though there were alot of women that used them as "babies"....talked to them, walked them, changed them and tried to pass them off as real children. That part was WAY more disturbing than the dolls themselves.
Now if I had a daughter how cool it would be to buy one for her to play with. When I was a little girl I would have LOVED to have one!