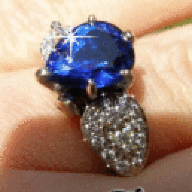 Joined

Feb 27, 2006
Messages

935
Well he just told me this morning that he was asked to work next month, 7 days a week at his job. I doubt any proposal until bloody April now!! Which makes it a whole year since we started looking at rings. sighhhhhhhh

I got so depressed yesterday because we don''t have any money, it''s living from pay check to pay check
We''ve been together for almost two years and never been on vacation, I see him for 2-3 hours per day and he ends up falling asleep on the coach
I know, I know this is real life, owning your own house is good debt, but it''s such a struggle. I want to move to a cheaper state, but he doesn''t seem to think it will be any better some where else. I told him last night there''s just nothing to look forward to, the house needs work to finish it off and there''s no money to do anything with it. He said he was sorry that he was selfish for making a career change at miiddle age. I told him it wasn''t his fault. I was walking up the steps to the house and the step just collapsed. He called me yesterday from work to joke about it, because I was seriously considering chopping some trees down in the backyard, stripping the bark and making a porch because lumber is a few thousand dollars to make a nice porch.
I told him no, I haven''t cut them down yet!!

BTW: We eventually are converting a ranch into a log cabin, so it won''t look that bad.