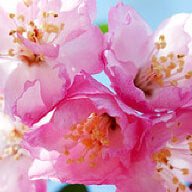 Joined

Nov 12, 2006
Messages

1,084
Before I choose flowers, cake style and color, food, my bouquet flowers, and invitations, I''d like to think of a theme for our wedding and would like your opinions
Here are my unchangeable "elements" thus far so it seems good to think about this now so the next decisions flow well
:
Season/time: End of summer/5pm start time
Ceremony: Flower/Tree/Lake Park
Reception: Historic building on the beach w/ floor-ceiling windows and mahogany floors overlooking beach/rocks/water
BM dresses: Full length organza in Victorian Lilac (to contrast all the gorqeous green in the park)
BMs: carrying sage green silk fans that have pretty v. lilac flowers painted on them
My gown: Maggie''s Pia....flowy sparkly organza overlay strapless aline
Formality: Would be formal if we weren''t having a cocktail reception and Dj instead of a live band. So....semi formal
Guests: 100
Main colors: Vic Lilac (alfred angelo) and Sage green
Accents: crip whites and silver
I like the idea of having a garden/park theme but then the reception is on the beach. And I don''t really want a beach theme. I could do a flower as a theme but I have almost zero money for flowers so I''m gonna be at the mercy of whatever the florist says I can afford for my bouquet and if that means roses, fine........but I don''t want a Rose themed-wedding. I really want to put a design of some sort on my invites that speak to the theme so I want to figure this out now if I can.
Thank you for any ideas!!!! Most of you are so much more creative in this way than I and I can''t wait to hear what you come up with