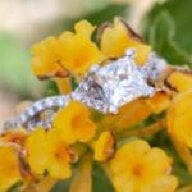 Joined

Mar 25, 2011
Messages

247

So, originally SO and I decided that September 1st 2012 would be a perfect timeframe to have our outdoor wedding; it's just shy of 1.5 years from our engagement (we already live together, so no point in putting it off for too long!), it comes off the heels of summer so it should be starting to cool down but still be nice outside. For frame of reference, our wedding is on Eastern Long Island (NY) and will have an outdoor ceremony (probably around 11:30am) and outdoor cocktail hour-- the reception will be indoors.
Lately, we've been wondering if the end of May would be a nicer time of year for the outdoor festivities. Unfortunately, both of us agree that May 2012 is too close-- which puts May 25, 2013 as our candidate. However, we both feel that 2 years is a little long to wait considering how long we have been together, and the year that we've lived under the same roof (which would be 3 years by then!). I should also mention that I would have a hard time waiting to begin planning in full-swing; I've already begun!

But, May is almost guaranteed to be beautiful and of course has less chance for humidity.
I guess my question is-- first, does anyone have any input?
I'm asking family, friends, strangers on the street (well not quite)-- both FI and I (clearly not the most decisive couple in the world) can't reach a solid decision! We've discussed it so many times and keep going back and forth-- September because the timing is perfect (and an anniversary on the 1st of the month would be pretty cool), and May because it's a guaranteed outdoor winner... but it is awful far! If anyone has lived in NY/on Long Island, or just has general recommendations on selecting a month or timeframe, it would be greatly appreciated!
For the record, I do find the chapel at our venue-to-be extremely beautiful and wouldn't be hopelessly crushed if we had to have an indoor ceremony, which is a consideration. But I do want the day to be lovely and prefer the outdoors, which I'm sure you can all understand! Any and all advice is appreciated!