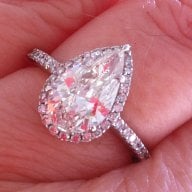 Joined

May 23, 2010
Messages

6,731
So I decided to figure out what my dogs' food cost me per pound. It comes in twee little cans; Little Cesars.
Turns out I was paying $3.10 per pound.
Which is a bit much. I've tried all kinds of other foods (including ultra-pricey $25 a small bag health foods) and this was the ONLY dog food the little buggers would eat. I hated always running out of it, and sometimes they will just ignore it and it goes to waste. I'm not sold there were any healthy vitamins in there, either.
Well, I've had enough of that. I went to Costco and hunted for actual meat I could feed them.
Costco
Pork $1.75 per pound
Chicken breasts, frozen $2.35 per pound
Chicken parts (bag of thighs or wings or whatever) $1.75-2.49 per pound
Ground beef $3.49 per pound.
Italian sausage $1.75 per pound (no, I won't feed them this, but it seems to be a deal, thought I'd mention it)
So, we bought a giant pork thing (I think it's a loin? or chops that aren't chopped yet?), cut it up, roasted it in the oven. I cut it into feeding sized servings, bite sized bits, which I froze. Now I take out a baggy, microwave for 30 seconds and they love it. I add leftover veggies from whatever we're eating (sweet potatoes, green beans, peas, carrots, rice) and it seems to be a hit.
So, just saying; dog food seems a bit pricey. They're trying to soooooo hard to sell you "meaty" and "beefy" and "natural". I decided to
skip the middle man and just give them actual meat.

What does your dog food cost?