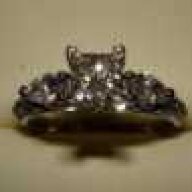 Joined

Jan 24, 2009
Messages

74
Ok, without sounding condescending, (many but not all) women seem to base (much) of their life off of emotions (which is great, it makes life that much more exiting). In fact,
some theorists
(I can give you referances of books if you want) even state that women are "addicted" to their emotions. As such, one of life's grandest emotional periods for a woman is getting engaged/married and everything that precedes that event. Now, I believe the "suspense" from waiting has more of an emotional impact then everything attributed to receiving the ring and the days thereafter. For example;
The suspense of waiting;
-
Joy/happiness

-
Aggravation
-
Depression
-
Sorrow
-
Lack of focus

-
Frustration
-
Excitement
-
Anticipation
- ETC
(All of these emotions seem to exist from the day the word "married/engaged" pops up in a relationship all the way up until the deed is accomplished, even if that means months or years)
After getting engaged
-
Joy
-
Satisfaction

-
Thrilling
(These emotions only seem to last a few weeks at the most)
This may sound cruel at first, but from a logical perspective (yes I'm a "logical" guy), wouldn't it be better to hold off a bit and keep her in the state of "suspense" for a while, as she lives in a state of "elevated emotions", or what I have said is complete and udder nonsense?
Your thoughts, please………
(I hope I didn't just let out a whole bag-o-worms

)
(edited; as to not offend anyone)