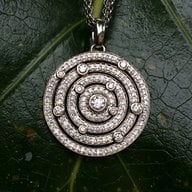 Joined

Dec 9, 2008
Messages

2,260
It seems like a lot of us PSers are jewelry clean freaks, with other peoples jewelry as well as our own.
So want's the worst case of dirty jewelry you have come across and just HAD to clean for someone?
I manage a B&M and happily pluck peoples sparkles off them while they shop and let them have a well deserved little bath in the untrasonic, and I have seen some doozies!
As mentioned in the wearing earrings to bed thread, there was a woman last week who ovbiously hadn't removed her studs in YEARS because the inside of each basket was just solid ear gunk. And they were not small studs. That's a lot of ear crud. It smelt bad. They required some serious tooth brush action and a very LONG LONG
LONG
HOT soak in the ultrasonic. ICK.
Another recent one was a lady with a gorgous emerald cut cluster that looked like crud because it was
black
and lifeless with gunk. Yes, BLACK. I didn't get this one.....if it looked that bad....wouldn't you just clean it? Not just keep wearing it untill it needed to come in for a rhodium plate....
By far the worst was the watch of an elderly lady which she gave me to change the battery on. I'm glad she left it while she did some other errands because I had gagging issues that would have been very unprofessional. I could not see where the back lifted off the watch because it was just covered in filth, and by filth, I assume it was several years of this womans dead skin and sweat forming into very thick 1/2 solid 1/2 paste-like layers on the back of this watch, and it just
REAKED
. I had to scrape all the crud away to get the back off and had to leave the workshop a couple of times to get away from the smell.

I just can't imagine giving anything to someone to work on in that condition.
Com'on, share your horror stories!