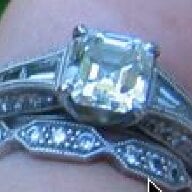 Joined

Jul 27, 2005
Messages

11,534
This sweet little baby
has changed my life. I can't TELL you how much I am LOVING IT. But first -- a little story.
Hilariously, I've had this thing for over six years & never ever used it. I bought it as kitchen sculpture I swear. I just loved the LOOK - thought it was so super groovy. Also, I was craving a VW Bug when the first came out -- and this was my compromise with myself ... a candy-coated espresso-making sculpture.
When my DH moved in a year ago he started asking about it. He was all "But you *like* cappucinos & lattes ... how come you're not using it?" And I'm all "I don't have a frothing pitcher or little cups etc - and I don't have the special coffee pods that go in it". Well -- he takes this on as his project .. he doesn't even DRINK COFFEE (but is always good at brewing me some before I wake up - such a sweetie). Anyway - we were at the grocery & he found the elusive
pods
.. they were SO MUCH MONEY but he bought them anyway. Then we were at a kitchen store and he found the
frothing pitcher
& I found little
cups
....AND that store actually had DISPLAY models of my exact machine ... so the owner gave us an in person demo/lesson.
And then I came home & looked up ratios for capp & lattes on the computer and VOILA ... I am the happiest girl EVER. I've been bribing myself to do icky chores with the promise of a Low Fat Double Capp!!! I made DH frothy hot chocolate with it!! I no longer brew six cups of coffee & drink two big mugs -- now I just have a morning cap & an afternoon (bribery) cap ... getting WAY more lowfat milk than I ever drank as I loathe drinking milk ... but this thick frothy cinnamon sprinkled goodness is more like DESSERT!
*SWOON*
I will say that I paid about 50% less than the current cost of these puppies for mine -- prices have really gone up lately, but there are other versions to choose from too. Just had to share with my pscope peeps.