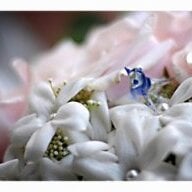 Joined

Oct 12, 2006
Messages

527
I just wanted to say Thanks to you guys for helping with the Mother of the Bride issues I was having... your advice helped.. and now.. after I have explained and talked things through with my mom.. she is much better now!
I just emailed her a copy of the proof of our invites.. and she LOVES them.. (they are gorgeous btw!!) and she was asking me about mailing times, etc. So I think she has seen where I was coming from and things are going to be ok now.
I''m sure I''ll be ranting some more as the wedding gets closer (HOLY CRAP... only 107 more days!!!)..
Just a little background.. my mom (bless her heart)... Its the holidays... my dad is in Iraq.. and has been for almost three years now... and now I live out of the country.. I think its just the holidays getting to her. I really have to try and be more understanding that when she goes off on these tirades... it really is nothing more than her being lonely and upset... which.. is not fair for her to take it out on me... but I do really need to try not to get so upset when she starts in...
and now I''m rambling.. anywhoooooo ... thanks ladies!