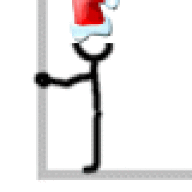 Joined

Dec 29, 2004
Messages

17,193
Date: 2/17/2010 10:57:05 PM
Author: neatfreak
I''m not sure what advice to give but am happy to answer any questions she has!

I followed the modified on demand feeding schedule. Which meant that I would feed them both when the first one woke up and wanted food. I highly recommend this, because otherwise by the time you''re done with one the other two will want to be fed and you''ll have to start again. I BFed them so it was a little different, but when my DH fed them in the early months he would just line them up in boppies on the floor and feed them. There''s a thing called a podee system and I bet she will love it if she gets one. Allows you to feed (bottles) without hands without propping them on blankets. We didn''t have one but a lot of twin moms loved it and I would think it would be essential for a triplet mom so she can feed them all at once.

If she''s BFing she can do two at a time. Line boppies up on the couch one on each side. Put on nursing pillow. Lean over and grab one baby and put them on nursing pillow. Then do the same with the other one (be careful to make sure the first doesn''t fall off!) and then latch them both on. Reverse the process when done. I recommend the EZ2 Nurse if she is BFing as it''s made for twin moms and is much better than a boppy or the like.

Bathing them, seriously babies don''t need baths everyday. Far from it unless they had a blowout. At best mine got bathed every other day and at worst every 3-4 days or so. My doc recommended this and I love her for it. newborns really aren''t getting dirty after all unless they have a blowout or a bad puke.

As for bathing I would again line up the boppies or bouncy chairs in the bathroom and then bathe one at a time. Bathe, diaper, put back in the bouncy, and repeat. This would work just as well with trips as with twins just more trips back and forth to the bathroom!

And for her own sanity she needs to get comfortable with taking them out or else she will NEVER leave the house. It really isn''t too bad and my kids actually are much happier out in the stroller esp. when they are cranky.

Hope that helps-let me know if she has any other questions.
Thanks NF. I recommended the podee system awhile back to her since I found it on the triplets forum I think you linked me to. I read it works for some, not for others, but I think it will come in handy soon and worth a try.
She''s a germophobe and a bit OCD, but I think the sheer exhaustion will make her understand babies don''t need to be bathed every other day, or even longer. Heck, my toddler has been known to go a few days due to her lazy mama.

I don''t think she is going to BF. No milk, and too stressful at this point. I will tell her about your modified on demand schedule, thank you!