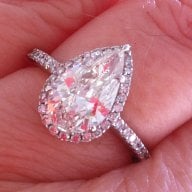 Joined

May 23, 2010
Messages

6,731
I've never been camping in an RV before, and DH and I are thinking of renting one this summer.
I camped once, with DH. But it was in a tent, and a giant centipede knocked over a coke can in the dark. It was easily 6 inches long and we ended up sleeping in the car.
Apparently, we are bored and willing to try again.
So here's the question; can we just drive around and find a campsite? At an RV park?
Or do you need reservations? Do parks generally have something available?
We know state parks need reservations way in advance. Is there an app that lists parks with open spaces?
DH and I both agree that making reservations would suck the spontaneity right out of it. We just want to drive, then park somewhere and hook up to power, water, whatever.
We're considering a tiny thing, about 20 feet long. Just a couple of nights.
Any other tips? Camping stories? We're not in bear country, so I'm willing to hear those stories.