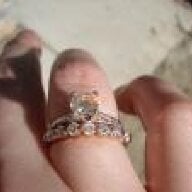 Joined

Apr 13, 2008
Messages

8,614
Hi there. I am a certified teacher, with an endorsement in cognitive impairment. I am currently working in a resource room, where all of my students are LD. I am planning on going back to school for my masters degree soon... I am debating 2 options.
#1- Go back for a Master's in LD... It will give me an additional endorsement as well as the added benefit of more pay, not to mention that I will be more knowledgeable in the field of LD. I can have this degree in about 8 classes, since many of my CI classes transfer over.
#2- Go back for a master's in CI... I can get in in less than half of the amount of classes as the LD degree because every single one of the special ed classes I took for my undergrad count toward this degree.
Which would you do? The quicker one, or the one that takes a bit more time? I could also get my master's in CI, and then go back for an endorsement in LD... That way there is less of a chance of my credits expiring if I can't get all of the classes out of the way for the LD degree.
What would you do if it were you?