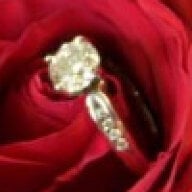 Joined

Apr 28, 2008
Messages

11,676
Sorry for the tacky question, and I know I'm going to sound like DF when I ask this (love you DF!), but are most people on Pricescope pretty wealthy?

I assume yes, because it's a forum for diamonds and luxury jewelry, so naturally it's going to be mostly people with a lot of disposable income posting on it. I know it's a very personal question, but do you consider yourself well-off?

I will answer my own question first. I would not classify myself as wealthy by any means, but DH and I inherited a house free and clear from a family member, so we have no rent or mortgage. That has freed up a lot of our (very modest) income. We also are savers by nature, and I think we are pretty smart with our money management.