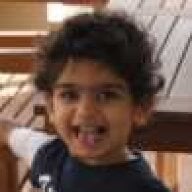 Joined

Jan 3, 2005
Messages

1,260
Hi Everyone! It's been a while since i've actually posted something, but i've been lurking for a while, too busy with my new job and fixing the nursery at the house..
Well, with only a couple of months left to go i have started my baby registry and started receiving some of the items (always fun to rip thru the wrapping!)...Well, this is where the dilemma is. I currently drive a Mini Cooper which i love to bits..but to be very honest its VERY impractical for a new mom! The car seat doesn't fit properly and we have to do a lot of maneuvering to get it to fit....the stroller doesn't even fit in the trunk!! So hubby has been insisting its now time to look for a new car and i always knew that my next car after my mini would be an SUV....
So would LOVE to hear about ur suggestions of what SUV's are good and if you have one, what sort of experience you have.
Currently we have our eyes set on the mercedes 350 ML. The next contender is the infiniti FX35
any thoughts?
ETA: I've already gone through this old link here on PS :
https://www.pricescope.com/community/threads/reccomend-your-new-suv-to-me-please.38638/
but wondering if there were any updates since then.