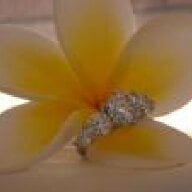 Joined

Jan 17, 2009
Messages

2,692
Hi All
I have recently been toying with the idea of having a suprise wedding. My BH is keen on the idea and we already have the general idea figured out... we were planning on having a belated engagement party at the end of the year once we had the back yard and house finished to how we would like, and i thought if i have to wait a year for my e party, why not just get married as well? So we would invite everyone to our belated engagement party, (at home) mingle with the guests for the first hour or so and then dissapear to get dressed and then have the celebrant announce that we are getting married!
We have a lot to do to the house and garden, and i feel like all the money that would be spent on a traditional wedding would be a bit of a waste for one day when we can use it on the home and have it forever.
My questions are...
Has anyone ever been to or heard about a suprise wedding?? How was it?
What do i tell people as far as caterers, singers and the like are concerned? Can i say that i am booking them for an engagement party when really it is a wedding?? Obviously you mention the w word and prices go up, and that is part of the reason for wanting to steer clear of the traditional wedding anyway!
I am not too bothered about offending anyone as we are planning on telling just our mothers for now and then our daughters right before hand... everyone else wouldn''t find out till it was time and i am sure it will upset someone, but i figure it''s better than me being upset for the year before hand trying to please everybody!!!!