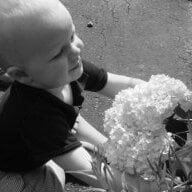 Joined

May 16, 2006
Messages

2,330
I have been collecting some neat, vintage picture frames of different sizes over the past months. What I would like to do is have one large black/white pic of my fiance and I at the guest book table, surrounded by smaller, black/white pics of my parent''s and my grandparent''s wedding day.

Here''s my problem. Out of the 6 couples that will be pictured, one set of grandparents are now divorced. These two get along great,and will both be at the wedding with their new partners, but I don''t know how to do this display without either leaving them out altogether, or making it obvious that they are divorced.

Do you think I should just have pics of my parent''s wedding day--and skip the grandparents b/c of this issue? I would really like to include my grandparents b/c I am super close to them and they have the most gorgeous pics ever. Plus, all 3 generations on my mom''s side will have pics from the same church on display which i would like people to see....

Suggestions please !