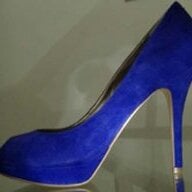 Joined

Dec 14, 2007
Messages

19,456
Do you think there is any stigma attached to Vegas weddings/elopement anymore?

I can''t tell you how many times people have said to me, "Oh, gonna do the Elvis wedding huh?" or "Drive up wedding? Nice..." etc.

Now I''ve been there. I used to think people only went to Vegas to get married when it was...Oh I dunno...a shotgun wedding? Unplanned pregnancy? Running away at 18 to marry a person your parents can''t stand? Or if you''re Carmen Electra or Dennis Rodman? And Britney only made it worse.

And yet, here I am, with a wedding planned in Vegas!

So what do you guys think? Tacky? Is there a stigma? Or have people gotten over it? Is it actually a positive now?