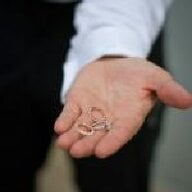 Joined

Dec 8, 2011
Messages

1,304
blacksand|1353943497|3315657 said:

Yay! You added more pictures! Absolutely gorgeous. I love the little details, like the polka dots on your toenails! Love the mismatched BM dresses. Love how happy you look! You have a twinkle in your eye in almost every pic. And I love that red hair! You know I have such a fondness for redheads. Maybe that's why I'm marrying one!

Your photographer did a great job, and so did you.
Thank you! I just LOVE how our day played out in the end and looking back it was better than I thought it'd be! It was a good bit of work, but I think all the personal touches really made for a fabulous day! I am kind of sad we didn't get a picture of the place mats though. I bought brown kraft paper from amazon and stamped each place mat with like 6-7 different stamps (we did some hearts, a few thinks like 'Mr&Mrs', 'Handmade with Love', etc in a few colors) and then put a heart sticker on them and had one of the BM's write in everyone's name. They were fun but took FOREVER to do lol
Oh and gingers are the best! So glad that you're marrying one lol


gem_anemone|1354019833|3316345 said:

I'm loving the new pics! Your color scheme is so original and everything looked so fun and great together!
Thank you! I think that the color scheme really matched the day, which was fun and happy. That was all I wanted in the day and seeing the pictures of everyone smiling (and DH and I smiling like fiends) really shows that the day turned out just as I hoped it would. Don't get me wrong, there was a bit of stress in the beginning of the day and some craziness with the MIL, but it was SO WORTH IT as soon as I started walking down the 'aisle' with my Dad and Granddaddy!