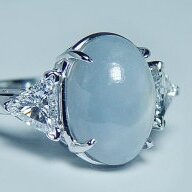 Joined

Jan 11, 2003
Messages

524
My husband brought me a baby squirrel this morning that was soaking wet. Unfortunately a little while later he also found the mom, she was dead.
Okay, so now I''ve got this little guy that I think is about 36 days old according to google. I''ve set up a 10gal aquarium with a heating pad under it and layered lots of shredded giant kimberly clark paper towels (nearly lint free) for him to "nest." I warmed him up, dried him off, picked off a few fleas. I also might have put two drops of kitty flea stuff on him...okay, I did, hopefully it won''t kill him. Then I went to work. When I got home he was all curled up in a ball under the paper towels. I''m not sure if the noise he makes is purring or growling. It could go either way. He''s had some formula, hungry little guy, greedy too but I guess it''s been awhile since he''d had a meal.
So I have no idea what to expect. I already have a list of animals but I''ve NEVER had a squirrel. So far it seems easy, hopefully it''ll stay that way. I dont intend to keep him inside beyond the critical time and we''re also going on vaca in a month so he needs to be independant.
Does anyone have experience with young squirrels. So far the info has been great online but I''d like some real life info.