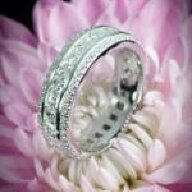 Joined

Sep 17, 2009
Messages

120
Hi Ladies
I don't post much but I wanted to share this with people who understand. I'm almost (almost!) in the top ten so I kind of feel like I have been here for awhile. I made up my mind about 6 months ago to just stop talking about it already. We have been long distance for the last 3 years as he completed university (he went back to uni late he's 28 and I'm 33), but it all ends in 23 days when he moves back home so of course this has got me thinking about engagement again!
I don't know about the rest of you but is anyone else a little upset that diamond prices have increased so much lately? I just want to tell him to get on with it already before they go up any more so of course today I decide to mention that fact to him, and of course I have it all built up in my head how I want him to react and of course, he doesn't react much at all. sigh.
So we go back and forth a bit because now I'm frustrated and he said to me (by text msg):
"check it. I'm gonna do what I'm gonna do. It isn't for you to stress about so stop stressing! Just enjoy the ride! I have tons of your input. relax"
It made me laugh and feel better because it seems like he has a plan so I think for once I'm just going to try to take his advice (which really is the same advice as what most people say on here!)
Wanted to share that though, makes me feel better just talking about it! Thanks for reading!