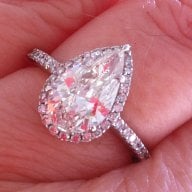 Joined

May 23, 2010
Messages

6,731
Not sure, summery is a word.
Maybe summer-y? Is that a word?
I am glad some things have been selling lately. I'm at the stage in my life where I've looked around, asked the kids, and realized that many of my things don't interest them. So, I've sending them off to appreciative homes and that makes me feel good.
So here's another thing (in a looooonnnnnggg line of stuff to come): an artist-made glass bead bracelet. Gorgeous, unique, unusual. Also, very light to wear.
Listed on the bistro.
http://diamondbistro.com/category/221/Bracelets-and-Bangles/listings/47783/Handmade-Lampwork-Glass-Bead-Bracelet-w-Sterling.html
Also, if anyone is interested in authentic vintage Native American items, I have some listed on ebay. Maybe for Father's Day? Not sure I can link here, pls contact me through the bistro.