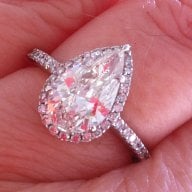 Joined

May 23, 2010
Messages

6,731
This is one of my cutest pieces, but I haven't worn it in a long time.
It's 48 glorious inches of keshi pearls, with a marked sterling silver cat clasp. His little tail opens and closes, but I usually just slip it over my head because it's so long.
I vaguely remember paying quite a lot for it, several years ago, but what can you do?
Here's the ebay link to even more pics. In the listing I discuss the overtones, color, luster, etc.
http://www.ebay.com/itm/48-Inch-Keshi-Pearl-Strand-w-Sterling-Cat-Clasp-Rainbow-High-Luster-Baroque-/331835645997?ssPageName=ADME:L:LCA:US:1123
For PSer's I have a return period. When you receive it, you have 24 hours to let me know if you'd like to return it, and then 10 days to return in original condition. Buyer pays return shipping and receives a full refund.
Feel free to ask questions.
I did want to mention, that if I had a mom that knew about keshi pearls, this would make a cute mother's day gift.