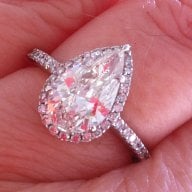 Joined

May 23, 2010
Messages

6,731
One thing I love about PS is that I can ask questions that are too embarrassing to ask in real life; I hate to admit to being such a cooking idiot at my age. So here goes:
I want to have a machine that will julienne carrots, make cole slaw out of a head of cabbage, make waffle cut potatoes and carrots, and do other things to make veggies more appealing shapes. Since DH was diagnosed with diabetes, we're expanding our veggie repertoire and I am tired of chopping stuff into cubes and slices.
Is it a food processor that does these things? Are they hard to clean? Do they last? I seem to only find blenders for sale, or there are these machines that won't tell me what shapes they actually cut.
Is this something I can achieve under $100?
Please provide actual links if you know of something that will do all these magical things.