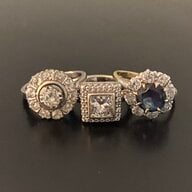 Joined

Aug 1, 2008
Messages

3,372
DH and I are going to be in South Africa for June, July and August and possibly longer doing some volunteer work. We're leaving next Wednesday (June 1). We've never been to South Africa and don't really know what to expect. I would LOVE to hear from those that live in the region or have spent some time there. We're going to be about 30 km east of Johannesburg (I think). I would love to get an idea on the following:
What food should we not miss? We've got a SA restaurant here in ATL and we've been to it, but I'm sure it's just a hint of what's really there.

Please reassure me DH can get a steak. I swear, he's beem more concerned about that than anything else! Crazy man.

Since we're going to be working regular work hours, our free time is really limited to weekends. What things should we make sure we see/do that could be done in a weekend?

Is the winter as mild as my friend, Wikipedia, tells me?

How safe is Johannesburg? I'm assuming it's no more or no less safe than any large city.
I must admit it's nearly comical how much research I HAVEN'T done about where we're going. I've been figuring that we're there long enough that I'll figure it out once we get there! I'm more of an overall planner any way, rather than a super specific, must do this on this day type of person (I really tweaked some of our friends with my "itinerary" for our trip to Turkey. Or lack there of.)
Thank you in advance for input! And if anyone is in the ATL area and would like to come do all the packing I haven't done because I've been procrastinating, I'll let you know where to find me.