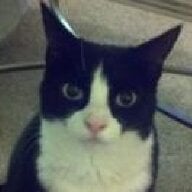 Joined

Aug 8, 2005
Messages

40,225
So when you are at work all day and the only interaction you get is on PS or through email (because you avoid most of your co-workers), where you can censor and edit-- do you find yourself muttering your 'true' thoughts under your breath?
Let's just say my cube-farm area is full of mutterers. You hear things like: Yes, I'd love to take on the work of three more people-- all of it not in my job description, because you are such a terrible project manager that everyone who reports to you has quit. YAY me!
If you really listen. Cause most of the time you don't, cause you, yourself are muttering.
SO anyway... every once in a while, right afterwork I kinda forget to stop muttering, and to turn my filter back on.
Example: Went to a pasta stand place for a quick bite to eat and this 14 year old cashier with entirely too much eye makeup on asks us what we want to order. There is a HUGE order board menu behind her that lists what the items are, and what's in them. So I pick some dish and she says, "would you like me to tell you what's in that."
And, remember no filter, I look at her and it just pops out, "No, thank you. I've mastered reading."
Embarrased the crap outa my husband. So badly he ordered something he hates, and didn't realize it until he went to pick up our orders (not a service restuarant, more like pasta fast food).
So... I gotta remember to turn that filter back ON.
Is it just me???