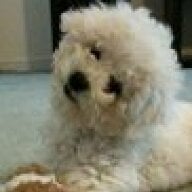 Joined

Feb 2, 2008
Messages

5,206
Some major checks off the list!
First: Bridesmaid Dresses
Just wanted to celebrate a bit, after taking forever to find the dress it seemed like it would never work out. But we got them in and so far they''re perfect!! I will post a pic I took of the fabric later. My Mom doesn''t really want her photo on PS so no photos of her in it, sorry.

But the dress is perfect, yaaay!


I think we found a shoe as well..we''re looking at a pump dyed to match.
Second: Tuxes!
We also picked out tuxes!! FSIL works at a tux shop so she''s been really helpful, and we found our tuxes! They groomsmen are wearing black tuxes with black herringbone(sp) print vests and solid ties (no bow ties). And FI is wearing the white version of the vest and tie (same print and solid) and my Daddy is going to be wearing the pale green color vest and tie (same print and solid). I am excited!
Third: Second dress fitting!
Had another dress fitting today. Almost done! Found a few things that need to be fixed, but it looks like I won''t need to wear a bra which is awesome (one less thing to buy). So that requires a mini victory dance as well!
Anyway happy planning everyone, hope it''s all going well!