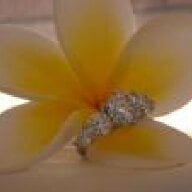 Joined

Jan 17, 2009
Messages

2,692
Hi Pricescopers

I know there are many wonderful hairdressers on this board so i was hoping you could help me out with a question?

I have had blonde (coloured) hair using foils for the best part of ten years. For the past 7 months I have been growing it out. My natural colour is a brown, nothing special, and the remainder is the blonde colour growing out and Im getting to the point of needing to do something with it. It was looking quite Balyage for a while but now its looking messy and not really brown and not really blonde... kind of wishy washy. My DH would like me to be "Katy Perry or Lady Gaga" but not in between.

So... i have my MIL's 75th birthday this weekend and have decided i need to clean it up a bit. I don't have time to go to a hair dresser between now and saturday so i rushed down to the shops and bought some hair colour to darken it. The hairdresser sold me an orange red colour (like a rinse) to put on the blonde parts to act as a filler and then sold me a dark brown colour tube with a bottle of 3% hydrogen peroxide to mix together and put over the top.

Ok, finally onto my question...

Is the colour with the 3% hydrogen peroxide in it going to lighten / damage my natural hair colour once the colour washes out? Is it going to undo all of the hard work of growing my hair out for the last 7 months and put me back to square one with roots and dried out hair?

My ultimate goal (for now) is to grow my hair out. The 'new' stuff is looking so much more healthy and shiny than the blonde stuff that has been coloured a zillion times.

I want a change but at the same time I don't want to undo all my patience of growing it out.

I had decided not to go ahead with the colour but then I read on the reciept that they do not give refunds or exchanges so i am stuck with $40 worth of hair dye and i am not sure if i should go ahead with it.....

Any advice or suggestions would be greatly appreciated!