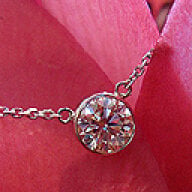 Joined

Oct 30, 2002
Messages

31,003
hi fellow shopaholic and fashion maven PSers..i have a Q for you.

since i''ve lost some weight, i have about 5 pairs of expensive jeans i love that i can''t wear because they are WAY too loose, like 2 sizes too large. they all have that 1-2% of spandex in them so even if they fit maybe a bit okay when i put them on in the morning, they are so horribly stretched out by end of day i hate wearing them. no one likes a saggy butt and i didn''t lose weight to wear baggy form-hiding jeans. hahaa.

anyway i was reading up online about how to potentially shrink them down, have any PS''ers had tried and true success? as of right now, they are upstairs in the wash on the HOT cycle and i plan to dry them 2-3x in the dryer on the super hot setting to see if that does anything.

i read online that this method works for some, but then others said it only worked for 1-2 wears then they stretched out again, others said to boil your jeans in hot water then dry them, others said to put your jeans in the bathtub for 2-3 days in hot water (keep changing out the water) then dry them. someone else said a magazine said to put them in the tub til they are soaked then wear them til they dry and they will fit perfect forever (how uncomfortable does wearing wet jeans for a few hours sound?!?!). an online wrangler jeans website said that hot water does not shrink jeans but overdrying does. so anyway, any PS''ers have tips or done something before and had it work?!?!?

i really would like to salvage these jeans because if i can''t shrink them or get them to be wearable (gaining the weight back is not an option!!) then i am going to try to sell them on ebay but i will get pennies back compared to what i paid, so i''d just really like to be able to adapt them to WEAR them! plus i really like the washes and the fit typically. help!