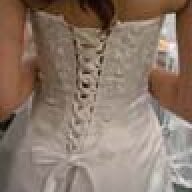 Joined

Dec 12, 2006
Messages

847
My FH and I are on a pretty tight budget, and are looking for ways to cut costs. I know professional photography is pretty expensive, and I was wondering if we should scrimp on that. One of our friends is a photographer, but he does mainly still life catalogue shoots, not people shoots. He took some pictures of our friends'' wedding, and almost all of them were focused on her bust

. I''m not sure I want pictures like that of our wedding... but then again, I don''t have much in the bust area, so we might get lucky!
The other option is asking all our friends with cameras to bring them, and ask them to share the pictures with us later. I''m sure out of all of these pictures, we can find some nice shots? Am also considering putting disposable cameras on every table...
I was wondering if anyone else saved money on this area, and whether you were happy with the results. Any suggestions would be really appreciated!