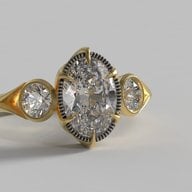 Joined

Oct 28, 2012
Messages

1,070
Thanks for everyone's caring words. I have been trying to 'manage' my depression these past several weeks....I mostly just sleep and then try to run the required errands like groceries, picking up kids from daycare and school and making them supper. I NEVER want to go out though which is really not like me. I don't cry unless talking about myself to doctors or friends.

I have been taking Cipralex since the beginning (last November) and I am up to 20mg. Not feeling any real changes nor positive effects. My employer sent me to their chosen psychiatrist for recommendations and he suggests Effexor. My family doctor agrees.

I looked up the side effects of this medication and ALL DAY I have been frozen in panic and tears because I have hear mostly bad things about this medication an two friends I have do not recommend it: one said it was hell getting off of it and it did not even have effect on her...the other was on it for 2 years, had a hard time getting off it and gained 35 lbs.

I measure 5' and if I gain 35lbs, I am going to go into a. even deeper depression!!

I really do not know what to do....if I do not follow my employer's psychiatrist recommendations, I might not be paid my sick leave salary insurance anymore.... I know my recovery may take loner without the meds....I would rather a more conservative approach to my treatment like meditation or yoga but since I need to go out to do those things, I am having a hard time getting started (i tried guided meditation at home and every single clip
i found on youtube drove me nuts!)

i have started yoga once per week at a gym and after a third session realised
i enjoyed it.

Has anyone tried effexor with their depression? Did it work?
what is everyone's experience with it? I am so pamicky right now I am even nauseous!