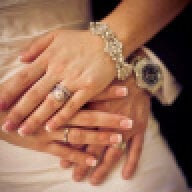 Joined

Sep 5, 2007
Messages

2,201
So my friend and I are pretty crafty and we''ve both had a hand in making invitations, cards etc. We are even considering doing it in the future as a side business.

My Step-brother who''s been known to be a real ass at times and who I''m currently mending fences with has moved his wedding from February 2010 to August of this year. Their budget has also been cut to about a third of what they originally planned for. Anyways my future SIL wanted help making her invites. Originally I had said yes but my dad is very worried that if I go ahead and make the invites, placecards, menus that if anything goes not to her liking I will be blamed.

I think we would do a really nice job on them and it would be great practice for my friend and I getting into doing this regularly.

Should we go ahead and do it or are we asking for trouble?