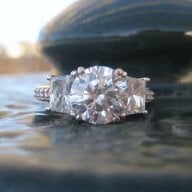 Joined

Feb 8, 2009
Messages

169
Hi! I am thinking about getting a Rainbow Vacuum. I have been putting it off because I hate to spend that kind of money but I am fed up with my old one. Not even a year ago I got one from Sears. It was rated #1 for canister vacs. It is great but there is only one problem..I have 3 labs that live inside. I have all wood and tile downstairs where we do all of our living. I was going through a bag every week or 2 weeks depending on how often I vacuumed. I finally got a a rug for the den and now with the added rug I am now going through a bag every 2-3 days if I am lucky. I am so tired of the bags. Another thing is that I live in the upper Midwest and we have very long winters that keep us inside for months. I know that the rainbow also has an air purifier feature and I really would love to have fresh clean smelling air with the dogs. My house never smells like a dog but recently since I had to move the kennels into an extra room inside there are days when you can smell dog ever so faintly..and that horrifies me!!
Does anyone own a rainbow? Do you love it? Is it worth the money?
Are there any other options I should consider before forking out the $$ for a rainbow?
Thanks in advance for any input!