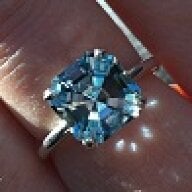 Joined

Jul 21, 2008
Messages

4,881
I am thinking of taking advantage of the first time home buyer''s credit. As I understand it I would receive what is basically a $7500 interest free loan to be paid back $500/year starting with the filing of my 2010 taxes (in Spring 2011). My FI and I bought our house end of last April so we both would qualify for this credit for a total of $15,000.
Our current kitchen is small, only 10'' x 11''. We have hardly any counter space. The stove is sort of by itself on a wall. All of the appliances are horribly old. Our dishwasher is so old that it has a piece of plywood screwed into the space where the front door panel used to be.

We are not sure how long we should be in this house as it depends on where I find a job after I get my PhD. Hopefully we will be there for at least 2-4 more years until we decide to upgrade the house and start having babies.
According to some research I did recently (zillow.com) our home is worth a little more than we paid for it... probably 5-6%. We got a hell of a deal because the old owners really needed to off load their mortgage as they had moved months before we came along.
Currently (as you can see in the diagrams I''ll attach) our kitchen is adjacent to the dining room. They share a non load-bearing wall that could come down. My idea is to build out the counter into an L-shape and install the stove in approximately the same place it currently stands. For simplicity we would leave the sink and dishwasher where they are as well as the fridge. We would gain a ton of counter space and cabinet space which is much needed. It would open up that half of the house and we would gain some bar stool seating on the counter opposite the stove.
I would want to install tile flooring in place of the current linoleum and manufactured granite counter tops. Currently the cooking is electric but I much prefer gas. I would want to install a small gas tank for cooking in the backyard (there are good places just outside of the kitchen for this) and have a gas line put into the house to put in a gas stove.
So if you were in my shoes, would you do this? Do you think its risky?
Thanks for your opinions. Feel free to tell me that I''m crazy. I also want to add that I wouldn''t want to spend more than $7000-$8000 on this project.