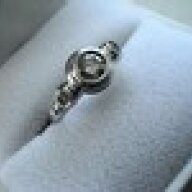 Joined

Nov 13, 2007
Messages

163
I''ll admit it: I''m not really a shoe girl. I''m more about comfort than style for the most part. I''m cheap. Would rather buy insane amounts of clothes and bags than shoes. I''ve spent hours searching for a perfect pair of shoes to wear for my wedding day that meets the below criteria, but nothing is jumping out as "the perfect pair."

This is where you shoe-minded PSers come in. : )

Here''s what I''m looking for --
* ballet flats OR low heel
* can be ivory, silver, or pink
* love feminine details like bling, bows, rosettes, and bows
* has to be affordable (I''m thinking less than $40)

Picture of my gown to follow!