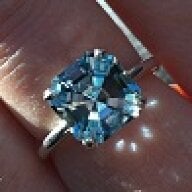 Joined

Jul 21, 2008
Messages

4,881
My friend ordered
these shoes
from that website and is very disappointed. First of all, they charged more than the MSRP on the box ($65 for $54 shoes), which is sort of weird. Second of all, they did the same thing for the gel inserts ($6.50 for $4.99 inserts). Then they sent her damaged shoes. The little rhinestone buckles on the strap has already begun to eat through the satin so its all fuzzy. Then they have also left black marks on the strap.
She is going to send them back but only after she gets them to agree to pay for return shipping.
So I told her I would use my great resources to find her an alternative.
What she wants:
White satin or silk
Closed toe
2 1/2 - 3in heels (her FI is much much taller than she is).
Size 6
Budget- $65 or under, shipped
Thanks!