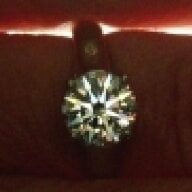 Joined

Jan 13, 2006
Messages

24,431
One of my sons was diagnosed with a very severe deficiency a few weeks ago. His level was at 7 ng/ml. Optimal is 50-100. He managed to walk around like this for years, we're not sure just how many, no thanks to 2 MD's, a
bone doctor
and a naturopath. The one to whom we are forever indebted on suggesting he be tested for it is, his counselor.

I am interested in hearing from anyone who has been on this horrendous journey.
I will list all the various symptoms later for those who are unfamiliar. There is an epidemic of this world wide, and it comes with a laundry list of symptoms from depression, to anxiety, to bone pain, to a variety of other odd things. Part of the blame lies in how we've been brain washed into believing the sun should never shine on unprotected skin. To the contrary, that is
the
number one best way to get D. Period. Most of the food supply has little in it, and most of us are not told to supplement, or not near enough.
Please check back later for the list, it could easily be pointing to you or one you love.