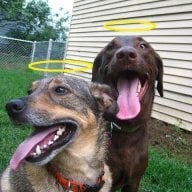 Joined

Nov 16, 2008
Messages

2,512
This may come across as a bit strange, but I'm sort of at a loss and not sure how to handle this situation.
Basically, my mom and friend are planning a baby shower for me. DH's mom never discussed having one until I was over 20 weeks along, after DH tactfully
says in front of both her and I, "Mom, are you having a baby shower for us?" - she sort of said, "well, probably, I hadn't thought about it yet." So DH said, "Well, charbie's mom is going to have one, and wanted to figure out a date. Will July 30th work for you?" And she says, "Well I guess I'll have to check and see."- no other mention of a baby shower. I then said I preferred 1 shower to multiple ones- it was just easier that way since I have a smallish family. and I honestly didn't want multiple showers given the busy summer we have going on. So I told DH to tell her she can talk with my mom if she wants to help plan the shower- she never called/emailed/contacted my mom. She apparently then told DH she wanted to have her own shower because wanted to invite some of her friends and family to it. I told DH it was fine for her to invite her friends and family to the one my mom and friend were hosting, since that was the point of having ONE shower- everyone could just be there together, it never was meant to be an event that didn't include her family.
SO now DH gets the list of people his mom wants to invite. Ladies, this list has over 50 people on it. Between my friends and my side of the family, I have MAYBE 20 people I invited. Many are family, who I've met, but she's also included some of her friends/cousins who I never have heard of or met in the 4.5 years I've been with my husband. Why would she invite these people I have NO clue who they are? I feel like it makes the shower look like a gift grab. I doubt she even sees some of these people or talks to them regularly. Also, if she was the one who was throwing the shower, I KNOW she would have no room to host a party with over 50 people!! DH said not to worry, a lot of the people I don't know won't come. Ok, so then WHY INVITE THEM??
DH now says I never should have said I didn't want 2 showers if I didn't want his mom inviting all of these people, and if she was hosting the shower she would have included all of them. I said I had no clue she was going to invite everyone she's ever met, and I think it's also kind of rude to invite all of these people if she isn't planning on helping host the shower at all. In fact, I think it's just rude period to invite people who don't know me or my husband well AT ALL.
What would you do? Is it too late to ask her to cut her list? Is it rude to have her cut her list? Was it rude for me to suggest 1 shower- given we were moving, DH was having surgery, and nothing was even discussed until I was over 20 weeks along, meaning at minimum I'd have been 30 weeks by the first baby shower and had weekends booked with their family golf outing, family reunion, and baby classes already at the ~30 week mark?
Sorry- this is half vent/half WTF do I do post.