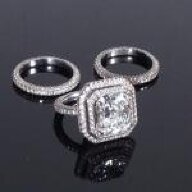 Joined

Nov 2, 2015
Messages

13
Hi all!
I am selling my engagement ring which comes with two bands or perhaps just the center stone...
The problem is, I keep getting jewelers and dealers that want it for wholesale but I'd like to sell it to a private party where I get a little more and they pay substantially less than to a jeweler. Easier said then done ....
Here are the specs:
Center Stone: CC Rectangle Brilliant
Measure.: 10.31 x 9.29 x 6.27 mm
AGS Cert# 0006667401
Weight: 5.058 ct
Depth: 67.5%
Table: 71%
Girdle: Thin
Culet: Pointed
Polish: Excellent
Symmetry: Excellent
Color: H
Clarity: SI1
Fluorescence: Negligable
Platinum Mount size 4.5
2 under interlocking bands with 472 micro pave diamonds 3.39 ct vs/g
Can someone please advise what a fair price would be 1) for the whole ring and 2) just for the center stone if I want to sell to a PRIVATE PARTY? Not at all desperate or in a hurry but want to have a good solid number in my head as the fair goal...
Thanks so much in advance for your help, opinions, and knowledge...