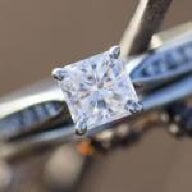 Joined

Jan 18, 2011
Messages

499
Thanks kelpie for your response a couple of weeks ago when I asked about this.
I'm SO glad I did this. Best $40 I've spent in a long time because it took my $600 class ring from my jewelry box where it was sad and in darkness to on my hand once again
This ring was purchased as an unplated white gold ring (without setting any expectation to me that it would be unplated) which I was disappointed with from day one. It also showed scratches HORRIBLY. One week into having the ring I got a really deep ding on one side and sent it back to get buffed out. It came back looking nicer but the scratch was still visible. It's now been two years since I bought it and I don't wear it very often anymore because of how quickly it scratched and the fact that the unplated white gold doesn't match any of my other jewelry.
$40 and an hour later and I have a brand new beautiful ring, I'm kicking myself for not doing this sooner. Not only does the rhodium plating bring this thing back to life, but they managed to buff out all of the hundreds of scratches on all edges of it to make it look flawless