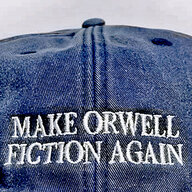 Joined

Apr 30, 2005
Messages

32,806
This was mentioned on another forum I frequent.
Reportedly, the earth along the US west coast is emitting massive amounts of CO2, CO and Sulphur Oxide gas indicating a major quake is imminent.
This link has an interesting video showing time-elapse images of growing clouds of gas ...
http://www.dailykos.com/story/2016/2/29/1493107/--There-is-a-Major-Carbon-Monoxide-Explosion-on-the-West-Coast
(I'm going to just ignore this and go about my day ... and remain an atheist BTW.
.)
I've found no mention of this on sites for Los Angeles Times, San Francisco Chronicle, CNN, Snopes, or even
www.USGS.gov
so I suspect it's a spoof.
Maybe it's to generate panic so the most stupid and fearful Americans (we all know who THEY are voting for) don't go to the polls for Super Tuesday.

But if true it's been nice knowing y'all.
Thanks to Andrey, PS staff, and the wonderful community here.
Good bye.

Love and kisses,
Kenny