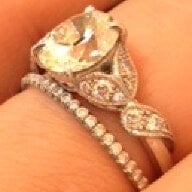 Joined

Feb 17, 2007
Messages

14,167
So FI is from San Diego, and due to weather logistics (I am from Mass and our school schedules might mean January would be a good time to get married) we were thinking of maybe getting married in San Diego. We were looking for a place to have a nice private room or patio for about 30 people. Since FI hasn''t lived there for awhile and his parents have lets say "different" tastes we were hoping you PSers might have recommendations.

I realized that I HATE planning parties over the years, so we are looking for something no fuss.

The requirements in order of importance:

1. Great food! We want something nice but not too fussy if that makes sense.
2. Good decor. I don''t want to deal with decorating really so I want some place with either cool funky decorations or something classy so that it will photograph well.
3. Not too stuffy. Our families need to be able to be themselves and have fun, and some of them are less than chic, so we can''t go anywhere where suits are required, etc.

We''re thinking Old Town Mexican Cafe for rehearsal dinner, then some place a bit nicer than that for the reception.

Ideas? Suggestions?

If we do this we also need a cheap non-denominational ceremony site. FI''s dad is on the faculty at USD, so we were thinking maybe on the grounds there...